Digital Tribes: An Introduction
I am starting a series of blog posts on what the Native American experience can teach us about building strong tribes in a Digital space.  I am very grateful to all who have explored this idea with me, in particular my SXSW Interactive co-panelists, Lou Ordorica and Dr. Circe Sturm, and want to expand this discussion in a public dialogue.
The genesis of the idea came from two observations:
The term tribe is quite liberally applied to online groups and communities. Two books: Bernard Cova's Consumer Tribes and Seth Godin's Tribes, also apply the term more broadly to people sharing a common interest, identity or objective. The term tribe doesn't really have a solid definition in these contexts, but definitely implies that people are gathering online in search of stronger connections and community.
Native American tribes have survived centuries of attacks & challenges as well as the single largest paradigm shift in their collective existence with the arrival of Europeans. In addition to attacks on Native resources,culture,beliefsystems,familial ties (see Indian Termination Policy) and, of course, their very lives*, Native American tribes had to learn how to navigate and in many cases adopt the European/Christian/Nation-State world view.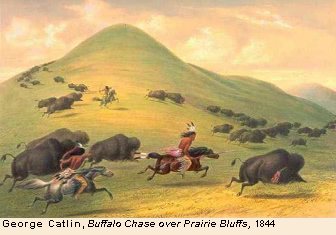 Those thoughts led me to these two questions:
Many Native American tribes, mine included, are enjoying a kind of renaissance in pride and commitment to culture. What makes up these Native American experiences and enables the tribes to continue and even flourish after such long and varied challenges? 
Can digital communities achieve the same kind of strong bonds, loyalty and sense of identity through the realization of the practices of indigenous peoples?
My research so far leads me to believe that online communities that are developing strong bonds, identity and organizations are employing techniques also found in Native American tribes. I do believe that the exploration of the Native American tribal experience can lead "neo-tribes" to the kind of loyalty, longevity and rich personal commitment that is experienced by indigenous peoples.
The subsequent posts will explore the role of leadership, mission, language, culture and governance as well as platforms in the development of tribes in online communities.  I look forward to your feedback, examples, critique and additions!
*I recently read Little House on the Prairie to my daughters and skipped the repeated line "The only good Indian is a dead Indian."
Community in Digital Times: Let's Buy a Tractor
With my upcoming SXSW Interactive panel, I have been thinking a lot about what we are looking for in online communities. This post is the first of several that I hope will start discussions about the future of "community."
I recently learned a lot about my Great-grandfather's life in a 4 hour road trip with my mother. He was a Texas farmer who took great pride in his independence. He and his wife worked very hard to supply themselves with everything they possibly could. The neighborhood barter economy or resource pooling supplemented most of what they could not produce themselves. Money was used as a last resort. Great-grandmother sewed all the clothes. The neighbors pitched in to buy a communal tractor. My grandmother's university education was purchased with pigs and cows at the Belton, Texas' University of Mary Hardin-Baylor.
My Great-grandfather lived in a community that was critical to his lifestyle, to his idea of independence.  The neighbors pitched in when someone needed help, pooled resources for everyone's benefit and traded with one another.  I don't know if my Great-grandfather liked any of his neighbors, agreed with their politics, faith or enjoyed the same hobbies (probably didn't have much time for hobbies). But they were bonded in a very fundamental way.  Tolerating one another had very real material benefits.
Today, observers raise concerns that we increasingly seek like minded people in the digital space.  But, hey! What a delight to discover 100's, even 1,000's, of people who share our interest or perspective. Consumer Tribes is an academic term for consumer's sometimes loyal, sometimes flighty interaction with company brands. Loyal brand communities represents the Holy Grail for modern marketers since modern consumers are perceived as fundamentally distracted, distractible.
Is that what is really going on? Are we just chasing online cocktail parties of like minded folks?
I'm not sure.  I wonder if we seek what my Great-grandfather had; community on an existential level.  We change jobs, move across the country, rely on money and contracts (life and health insurance, loans, investment funds), not other people, to provide security in our lives. The kind of local interdependence my great-grandparents, even my grandparents's had, is no longer the fabric of our society.
I have been in my new town less than 2 years. After such a short time, who here can know me well enough to count on me when they are in terrible need? Our modern sensibility would find it odd for me to enter into a loan with my neighbors like my Great-grandfather did. What has gone astray with our new definition of independence?
Are we journeying through the digital space, looking for some illusive sense of community that has gone missing? I see evidence of this behavior: a sheltered teen's 700 Facebook friends, a single, rural woman constantly and obsessively tweeting with 100 people she has never met… 
But can the digital realm provide satisfaction?  
My cousin, who has played on the same guild in Everquest for over a decade, tells me stories of how guild members arrived in times of great need (death, illness) even before family members. Guild members may change jobs, towns, and so on, but they congregate faithfully several times a week to combine resources in the virtual space. At times, these decade long relationships are stronger than family bonds.
What do you think?  Will we find ways to migrate more and more material as well as emotional reliance to our digital communities? Are barter sites and sites like Kickstarter.com,  and ughlyquilts.org going to become the new communal resource pooling? 
Will you ever go in on a tractor with me?